bagage de luxe rime avec œuvre d'Art
When luxury luggage equals priceless authentic work of art
Malles de luxe, vintage
Malles vintage (1870 à 1950) de grandes marques (Louis Vuitton, Goyard, Moynat, Aux Etats Unis, Au Touriste, Lavoet, Au Départ..) – Malles de transport, courrier, cabine, penderie, à chaussures, bureau, comme meubles de décoration ou pour ranger une collection (de parfums, de bijoux, d'alcools, de montres,…).
Leur RESTAURATION est faite dans les règles de l'art et dans le respect de la marque d'origine. La CUSTOMISATION de l'intérieur, si souhaitée, est faite selon vos directives et toujours par des Artisans d'Exception au savoir-faire ancestral.
de style contemporain
Malles de style contemporain, peut-être dessinées par vous, mais toujours FABRIQUEES dans nos ateliers par nos artisans à partir des matériaux, des dimensions et de la fonctionnalité, choisis.

Un département « RECHERCHE », pour trouver « la » malle dont vous rêvez et que vous voulez absolument acquérir.
Vintage luxury trunks
Vintage trunks (1870 to 1950) of renowned brands (Louis Vuitton, Goyard, Moynat, Aux Etats Unis, Au Touriste, Lavoet, Au Départ..) – Steamer, transportation, mail, cabin, wardrobe, shoes, desk trunks, used as furniture chests or as storage for a collection of perfumes, jewellery, alcohols, watches,…
For RESTORATION, best practices govern every move and each and every operation, in compliance with the original brand. CUSTOMIZATION of the inside, if requested, is also made by craftsmen with century-old skills and know-how.
of contemporary style
Trunks in contemporary style, maybe custom-designed by you, but always MANUFACTURED by gifted craftsmen in our workshops as per the materials, the sizes and the functionality, chosen.

A "RESEARCH department" to find "this" vintage trunk of your dreams you absolutely want to acquire.
S'offrir un bagage de rêve
Treat yourself to a dream luggage
Go Back
En exclusivité, nos malles disponibles
"Les bagages du prince d'Orange où était sa vaisselle d'or". Maréchal de Luxembourg, 1867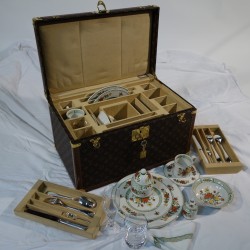 Pic-nic trunk. Porcelaine Villeroy &  Boch. Argenterie Christofle. Malle/trunk c.1950 – aménagée/designed c.1970
Previous
Next
Ambassadeurs du savoir-faire Français
Promoters of a French exquisite craftsmanship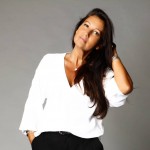 Silvie Alric
Attachée de presse
30 ans d'expérience en tant que directeur des RP & du Marketing pour des marques hôtelières de luxe. Enseigne le marketing niveau Master 2 dans de grandes écoles de management en plus de ses activités d'experte en Communication.

30 years of experience as PR & Marketing director for deluxe hotel brands. She is teaching Marketing Master 2 level, in top-notch business schools, in addition to her activity of expert in Communication.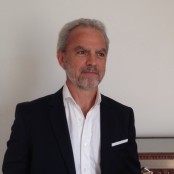 François TIXIER-LACAZE
Fondateur
30 ans au plus haut niveau dans différents groupes hôteliers internationaux. Expert du voyage, de l'hôtellerie de luxe et en stratégie de développement, mais toujours passionné par l'Artisanat d'Exception, par le savoir-faire des malletiers, maroquiniers, selliers, ébénistes,…

30 years in leadership roles in different International hotel companies. Expert in travel, luxury hospitality and business development, but still passionate about exquisite craftsmanship, about the savoir-faire of luggage makers, leather craftsmen, saddlers, carpenters,…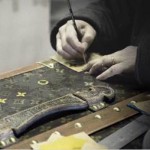 Les Grands Ateliers du Musée du Bagage
Partenaires
Des ateliers en France. Une équipe d'experts en restauration de bagages de luxe vintage maîtrisant toute la chaîne de valeur. Leur savoir-faire n'est égalé que par les artisans des deux plus grands malletiers du monde

Workshops located in France. A team of experts in vintage luxury luggage restoration mastering the entire value creation chain. Their know-how is equalled only by the craftsmen of the two best trunk makers in the world.
commander la malle la plus belle
To order the most beautiful trunk